This powerful tool can assist any organization that can benefit from a well-made graphic design. It can assist in building a strong brand identity, communicating crucial ideas, and leaving a lasting impact on clients. Find out why graphic design is important for your company and how it might affect your marketing initiatives.
Your brand is the most important aspect of your business. Key components of your brand are its strategy and identity. Creating a visual representation of what your brand stands for, and what it offers, will assist in increasing engagement with your brand awareness.
Graphic design is important to your business because it serves as a communication channel between your company and your target audience and/or customers. To inform, engage, and ultimately persuade potential customers to make a purchase or take a desired action, businesses utilize graphics at every level of the marketing funnel.
Creating a Strong First Impression
A first impression is how a potential customer will remember your business and what you serve. Any business may use graphic design as a powerful tool to leave a favorable, long-lasting impression. The first interaction a visitor has with your brand will determine how they will feel about working with you in the future. The first impression takes the shape of visual marketing collateral. It may be your product packaging, a landing page on your website, a flier or poster, a social media post, or even your business card.
Consistency Increases Trust
Building a strong and recognizable brand requires consistency. It contributes to the development of dependability, trustworthiness, and dependability. Businesses can boost their brand awareness, recognition, and loyalty among their target audience by consistently providing a clear message, tone, and visual identity.
Consistency in visual design is essential to building an identifiable and memorable brand, and consistent branding can enhance customer interactions and experiences. Building a strong and profitable brand that people can know and trust requires maintaining brand consistency.
More Effective Use of Communications
Graphic design is an effective way to communicate information and ideas visually through the use of graphics, images, and typography. It helps to convey complex messages clearly and concisely, making it easier for clients to understand your products or services.
A well-designed logo, brochure, or flyer can tell a compelling story about your company and persuade potential customers to take action. Graphic design also helps to establish a consistent visual identity for your brand, creating a cohesive and memorable image that resonates with your target market and clients. By investing in high-quality graphic design, you can strengthen your brand, attract and retain customers, and achieve your business goals.
Eliminate Your Competition by Being Creative
Graphic design helps businesses evaluate competitors' design tactics, including logos, color schemes, and imagery, to identify trends and strategies in the market. This information can guide a company's design choices to stand out in the marketplace and create a memorable visual identity.
For example, by modifying a logo template that is particular to your business, you may develop a distinctive logo to act as the face of your brand.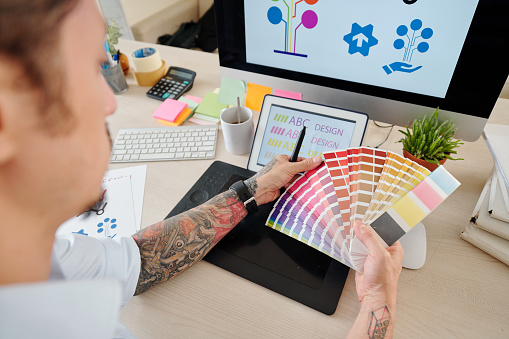 You can get help from Studio Lyn in developing a visual representation of your brand and company plan! We provide graphic design support for developing distinctive logos that will make your company stand out from the crowd. Get in touch with us to find out more about our brand design services and how we can assist you with your company's brand identification. Here are some graphic designs we have created here at Studio Lyn: