What is a brand?
Your brand is defined as your audience's perception of you. This intangible concept is shaped by personal experiences with your brand, from the visual and written elements in your marketing to the conversations people have about you behind closed doors.
Whatever consistent experience you're providing to customers will become what you're best known for. For example, if your marketing copy is upbeat and addresses your audience's problems while your customer service team serves customers with a smile, people will identify your brand as friendly and helpful.
While your brand is not one tangible thing, there are many elements that influence how people perceive you.
What is branding?
Branding is a broad term that encompasses all the ways that you can positively shape what your audience thinks of you. When done right, it is less about your products and services themselves and more about what makes you different and important as a business. In short, why should people care about you?
A vital tactic in branding that many businesses overlook is to focus on your target audience. You need to persuade them that you should matter to them. The most effective way to do that is to convey how you solve their specific problems and ultimately make their lives better.
What does branding look like?
Every form of communication with your audience says something about your brand. Logos, websites, and packaging are common touchpoints that brands consider, while the sales process, onboarding, and customer service are often overlooked.
There are two main tangible elements that contribute to branding: messaging and design. Both must draw from brand strategy to be effective.
Messaging is what you say and how you say it. These are the actual words you use to share how your business is different and important. Messaging should combine your brand's personality with the unique value you provide to customers.
Design is a way to visually convey information. Many business owners immediately think of their logo, but design should be considered across all touchpoints. Design elements like colors, fonts, and imagery can be used to attract your target audience and establish consistency across your brand, conveying credibility and professionalism.
What happens if I don't brand my business?
When you establish a strong brand foundation, you're taking control of how people think of you (and whether or not they want to buy from you). If you don't, you're putting the fate of your brand in other people's hands.
There are many negative consequences to a lack of branding. You will likely:
Target the wrong audience
Waste time and money
Produce inefficient marketing campaigns
Limit your profitability
Be unmemorable
Lack customer loyalty
Appear untrustworthy
These vital issues get more and more expensive for your business as time goes on.
What is the first step to branding my business?
Brand strategy lays the groundwork for how you want to be perceived and how to most effectively market your business.
We begin the brand strategy process by asking essential questions that dig into who you are, why your business matters, and how you help your audience. Based on your goals and our own research, we frame your business in a way that differentiates you from your competition and attracts your target audience. You'll gain a deep understanding of your position in the market, and you'll be ready to start crafting words and visuals that reflect your brand strategy.
If you're interested in learning more about the branding process, reach out for a no-strings-attached conversation about your business goals and how you can reach them faster.
I'm a new business owner with a small budget. How do I brand my business without breaking the bank?
For new businesses that want to get a jumpstart on branding, you can DIY the brand strategy process by answering questions about your target audience, core values, and more. Referencing these answers will help you craft more consistent and effective messaging and marketing campaigns.
We've compiled the most essential questions that we ask our branding clients during strategy sessions. You can download the free worksheet below.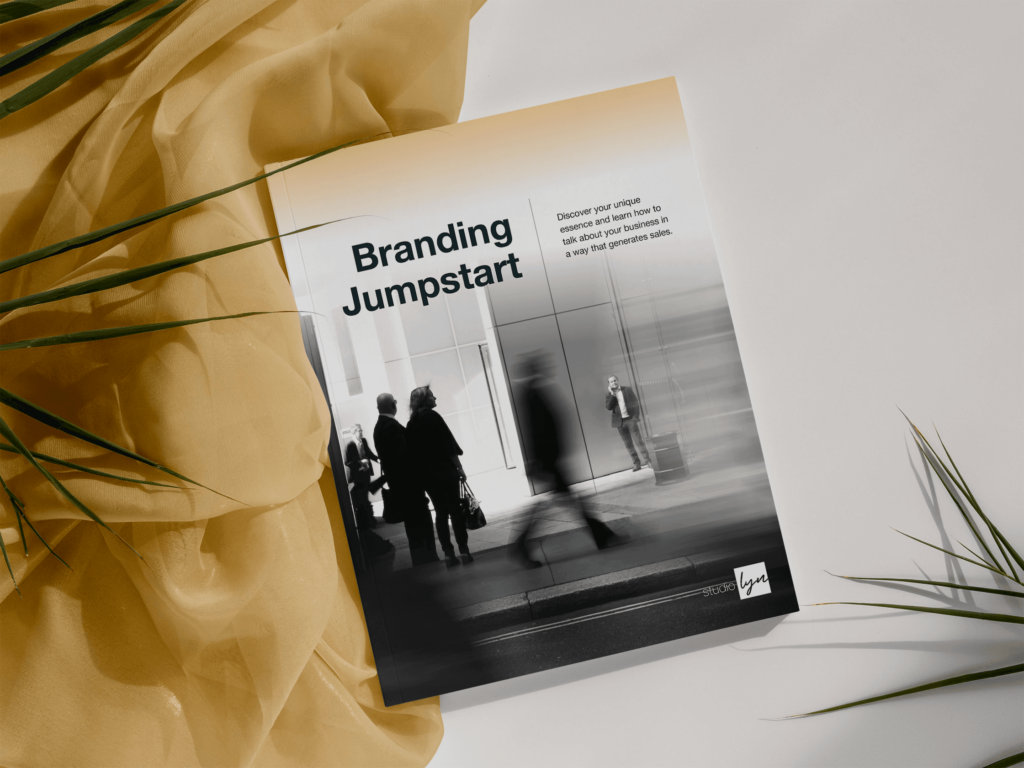 For your logo and visual elements, we recommend working with a brand designer to craft a semi-custom brand identity that can grow with your business. Reach out to learn more about how we can brand your business on a budget.
Branding gives you an opportunity to shape the narrative of your business. Make sure you're telling consumers the right story.